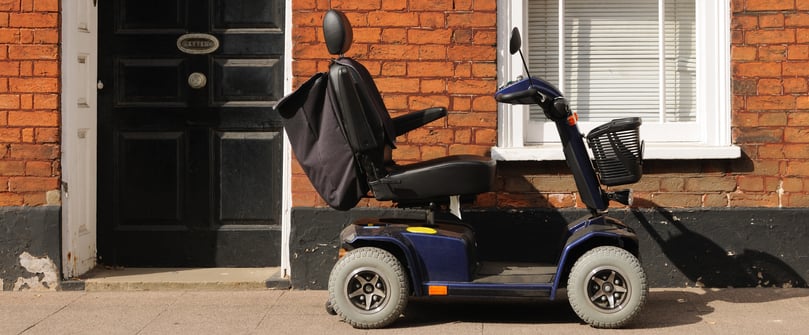 Choosing a mobility scooter can be a life-changing event. These devices can give you – or your loved one – a sense of independence that may not have been there before.
Selecting the right mobility scooter doesn't have to be complicated, but it's still an investment, and like any investment, you should make your choice with care.
When looking for a mobility scooter, look for one that's well made, comfortable, and easy to use.
To begin with, below are a few factors to consider before making your purchase. These factors can include your storage options, your budget and your body type.
You should also consider the types of journeys you'll be making:
Will you be using your scooter to go across town?
Do you live in a hilly area?
Will you mostly be taking short trips with your scooter, such as visits to nearby friends or errands in your neighborhood?
Will you be using your scooter on extended outings with your family?
The answers to those questions can affect the type of scooter you choose. Let's look at some of your options when choosing a mobility scooter.
Transportable Scooters
Portable scooters – also known as travel scooters – are typically the least expensive pick when choosing a mobility scooter. Designed to be taken apart, the individual components of these scooters are easy to move around. You'll be able to place the pieces in the trunk of a car, rather than using a vehicle with a lift or scooter rack.
But there's a tradeoff here: transportable scooters usually lack some of the benefits of other kinds of scooters. They weigh less, usually have a shorter travel range, can support less weight, and aren't as durable.
These may not be the best scooters for everyday use, but a viable choice for car trips, especially if you want to avoid the cost of installing racks or lifts.
Standard Scooters
Just like portable scooters, standard mobility scooters are designed to come apart, although the components are not as lightweight. You would normally need a lift to transport this kind of scooter.
And as we said above, these scooters include more comfort and safety features: better suspension, lighting systems, greater weight capacities and more seating options. Because these scooters have a set of handlebars up front, you would not able to drive them to a desk or table the way you would when using a wheelchair.
Heavy Duty Power Scooters
These scooters are much bigger and heavier than other types of mobility scooters, and as such are harder to transport. They make up for this by offering more power, versatility and durability.
They have higher weight ratings, and are designed to handle much more rugged terrain. They are a good choice for people who enjoy spending time outdoors in Philadelphia, Pa.
Three Wheels or Four?
Another thing to consider when choosing a mobility scooter is the number of wheels you want the scooter to have. Scooters are typically designed with three wheels or four, and each option has its benefits and drawbacks.
Three wheels:
Low turning radius, designed for maximum maneuverability.
Good for use indoors, or on level, paved surfaces.
More leg-room, which is good for taller people, or those with bad knees.
Less stable than four-wheeled scooters.
Four wheels:
Excellent stability provided by front and back wheels, making them good scooters for people with balance problems.
Safer at higher speeds.
Good for rugged terrain.
Not as easy to maneuver as three-wheeled scooters.
Whether you need a lightweight scooter or a heavy-duty power chair, Marx Medical Equipment is ready to assist you, with scooters for rent and sale in Philadelphia, Pa. Choosing a mobility scooter can be a big decision. Contact us today and we can help you make sure you've chosen wisely.