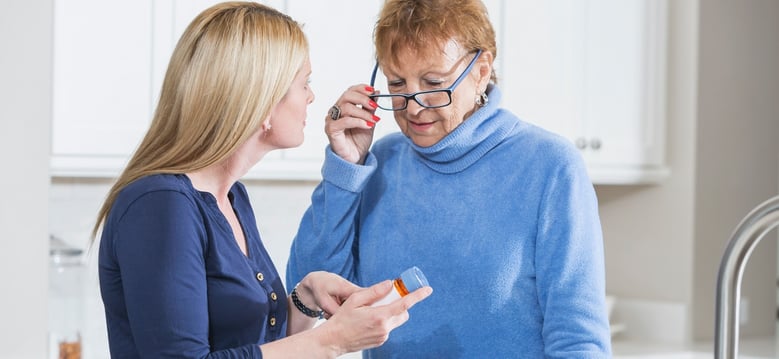 While no one enjoys having to take medicine, in fact many Americans go out of their way to not take it.
According to the American Medical Association, roughly a quarter of new prescriptions are never filled, while patients flat out avoid taking medications about 50 percent of the time. This is what's known as "non-adherence," and it has consequences:
About 25 percent of all nursing home admissions are due to people not taking the proper medications.
Avoidable healthcare costs in the United States add up to $213 billion. Of that amount, $105 billion are costs associated with people not taking their medication.
Non-adherence leads to 125,000 deaths every year.
If you or someone you love is worried about sticking to a medication schedule, a medication dispenser might be right for you.
Why do people avoid their medications?
Most people who skip their medication do so intentionally. They are concerned about side effects, the cost of their drugs, or simply feel they don't need to take medication.
And then there are the people who have too many medications. The more prescriptions a patient has, the more likely they are to be non-adherent.
Non-adherence among senior citizens
Nearly a fifth of all senior citizens still living at home take 10 or more medications, and this often presents them with a challenge. Non-adherence among older Americans happens for all the same reasons as listed above, plus one more: Many seniors simply forget or become confused.
This confusion may lead them to simply forget that day's dose, or it may cause them to take an accidental overdose.
How a medication dispenser works
Are you concerned that you or a loved one aren't taking your medication on time? You can eliminate this fear with this device. Here's how it works.
The medication dispenser automatically dispenses a dose to patients up to four times daily. The device then transmits data to a data center.
If the patient does not take their medication in a set amount of time (this can be determined by you or a caregiver), the device notifies the data center, which then contacts the patient or caregiver via text messages, email or phone.
The caregiver then gets in touch with the patient to make sure they take their medication.
Marx Medical uses a medication dispenser from MedReady. This device increases medication compliance by up to 96.7 percent by essentially eliminating missed doses and overdoses.
Features of the MedReady dispenser include:
A timed alarm system that provides new doses automatically
Lock-and-key, tamper-resistant storage
Holds up to a week of medication - four-times-a-day dosages
Costs less than similar devices
Device links to a helpful website that allows patients, family members and social workers to check if medication is correctly dispensed.
Contact Marx Medical Equipment today to learn more about this medication dispenser, as well as other products that will allow you or your loved ones to age in place.