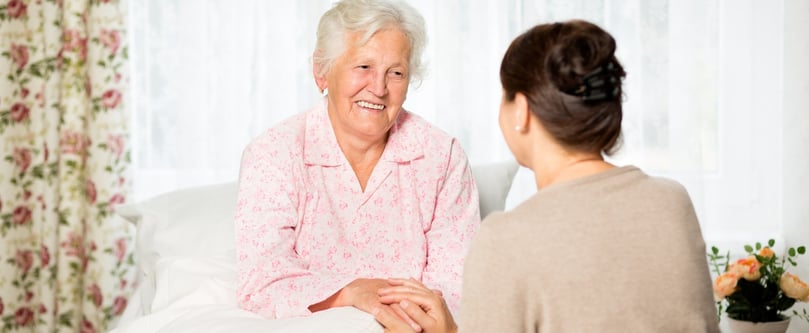 For many patients, being in the comfort of their own home during recovery is very important.
However, that recovery may require them to stay in a hospital-style bed, which offers better support, safety and comfort.
Buying or renting a hospital bed for home use comes with many different benefits:
Patients who spend long stretches in bed can develop bed sores. Because hospital style beds have adjustable positions, they can relieve the pressure that leads to bed sores.
Changing the position of the bed can also improve circulation, by lowering and raising the head and feet of the patient.
Having this type of bed at home can make things easier for caregivers who need to transfer patients in and out of bed.
You can find these beds at a medical supply store, but as with any purchase, it's one that you should research first. Here are some features to look for when renting or buying a hospital bed.
Electric vs. Manual
If you're buying a one, start by looking at the two major bed categories: electric and manual.
A manual bed requires someone to adjust the bed's position using a hand crank, typically positioned at the head or foot of the bed. They are typically less expensive than electric beds, but may not have as many positions.
An electric bed is one that you can adjust with a control pad. Some electric beds are what's known as fully-electric, allowing you to raise and lower the height of the bed of the bed, while also adjusting the position of the head and foot. There are also semi-electric beds, which allow you to adjust the head and foot of the bed electronically, while the height of the bed is adjusted manually.
Safety Features
Among the most important safety features on a home hospital bed are the rails. Beds with half rails can prevent falls, while still allowing users a measure of independence. At some point, a full-rail system, which limits the user's ability to get in and out of bed, may become necessary.
Rails can also help the person using the bed reposition themselves safely, while also giving them a place to hang the control panel on an electric bed.
Other safety tips to consider when buying a hospital style bed at home:
If the bed has wheels, always keep them locked, unless the bed needs to be moved.

Keep a phone within reach of the bed so the person using it can call for help.

Keep the rails up if the person is in danger of falling.

Beware of fire hazards. Do not smoke near the bed, or keep candles lit.

Put a nightlight near the bed to help prevent falls.

If using an electric bed, make sure the person using the bed has easy access to the controller. Have them test the control panel.

Have a professional look at all the parts of the bed before using it, and stick to the manufacturer's instructions for use.
Are you thinking about renting or buying a hospital bed? Marx Medical Equipment can help. We carry a complete line of semi-electric and full-electric hospital beds for sale and rental. Contact us today to learn more about how we can help you or your loved ones recover at home.