It's a lesson you've learned if you've ever spent a day in a pair of work boots that were too loose or heels that were too snug: proper shoe fit is important.
Shoes that don't fit properly can cause blisters, bunions, calluses and other foot issues. And this becomes even more of a concern when you're living with diabetes, even in the early stages of the illness.
That's why we've put together this guide on what you should look for when being fitted for diabetic shoes and inserts.
Why is the right shoe important for me?
Foot problems are a common issue for people with diabetes. When you have diabetes, you're susceptible to diabetic neuropathy, which often affects the legs and feet. This condition can cause a loss of sensation in your feet and legs. Combined with poor circulation, neuropathy can lead to sores and wounds that don't heal, which can lead to infections, which can lead to amputation.
Finding the right shoes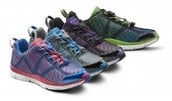 Buying the right diabetic footwear begins with having your feet measured to get their size and width. The foot tends to change in size over time, so it's a good idea to have them measured by your podiatrist each year. Have them get both feet, as one can be bigger than the other.
When it comes time to purchase diabetic shoes, trying to wear the same types of socks/stockings you'd normally wear. Stand up and walk around to make sure the shoes are comfortable and supportive.
There should be at least ½ to 5/8 of an inch between the front of the shoe and your longest toe. Make sure the shoe supports your arch, and that its bend/break is at the ball of the foot.
Pay close attention to the heel. A shoe that fits properly should slip slightly in the heel, but never slide off the foot. Test this by rising on the tip of your toes to see if the heel slides off.
As you walk around, check to see if the sides of the shoe rub against your ankles. Roll your feet to the inside and outside of your ankles. Your shoes should feel like they are trying to prevent this movement without feeling too tight.
Finally, don't buy shoes thinking they'll break in eventually. They should be comfortable when you first try them.
While these rules are important, it's just as crucial that you work with a trained professional when looking for diabetic shoes and inserts.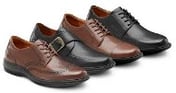 If you have diabetes and are searching for the right pair of shoes, Marx Medical Equipment can help.
Our team is committed to easing the pain and discomfort that come from the foot issues associated with diabetes, by providing our customers with safe and comfortable footwear.
We work with Dr. Comfort, which makes custom diabetic shoes to fit each person the right way. These shoes are designed to improve circulation and reduce the risk of injury, while remaining a pair of fashionable footwear.
And because we understand that diabetes often presents mobility problems, we're more than happy to send one of our certified shoe fitters to your home for a free fitting.