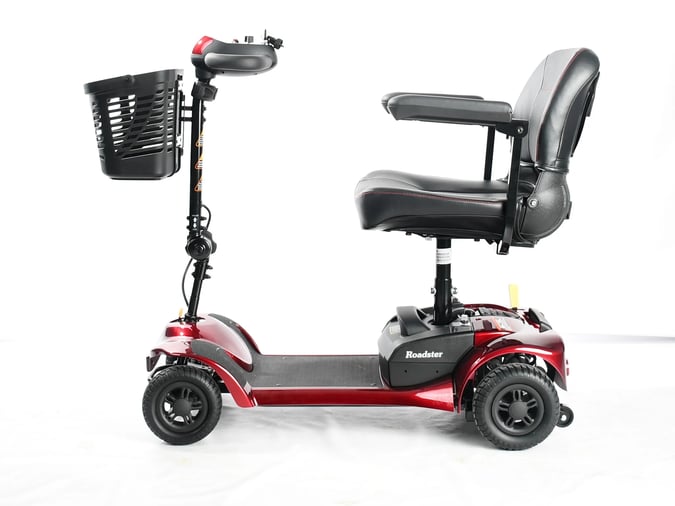 As older people start to have difficulty in walking many choose to use a mobility scooter to help them move around. Benefitting from improved design, mobility scooters are becoming an increasingly popular mobility device and are a common sight on many streets.
Benefitting from improved design and image as well as a decrease in usage stigma, mobility scooters have become an increasingly popular mobility aid. They can be hired even at airports, malls, tourist attraction areas or even at a supermarket! A lot of people choose to rent for a sort period, if they need it because of an injury and some other people buy a new scooter for their daily needs.
Are you or a loved one interested in purchasing a folding mobility scooter? Not only do folding mobility scooters help you get out more to expand your travel abilities, but they're also very easy to use.
Types of folding mobility scooters
There are two types of mobility scooters, automatic and manual. Another factor to consider is that there are automatic folding mobility scooters that have the ability to fold up with the push of a button. Manual folding scooters, simply require the user to manually fold the unit which is usually very easy (just not as easy as automatic). You can choose whatever is more convenient for you and cover your needs.
Choose the best mobility scooter for you or your loved ones
There are many factors involved in making the final decision.
First and more important factor is the area that you are moving with it. Where do you live and how are you planning using it? Some need a scooter that can safely go off-road, while others will only be using it indoors. If traveling with it is in your need then probably weight and size is important for you, also consider the space that you need in your car if you want it always with you.
Is mobility impairment temporary or permanent? Look for the scooter that you can use as independently as possible, make sure to ask about the various modes of operation it may offer and compare them to your current and expected capabilities.
Features and design. Choosing the right type is important, but also the designing innovative is a must! Some important features are battery life and weight, how easily or fast you can recharge it and of course how easy is to operate.
Understand your budget and your options. Scooters can get quite expensive, and some are partially or wholly subsidized by insurance, understand exactly what do you need before choosing.
Mobility experts in Marx Medical Equipment can walk you through the whole process and help you with your final decision. We have a wide range of mobility scooters available for rent or buy.