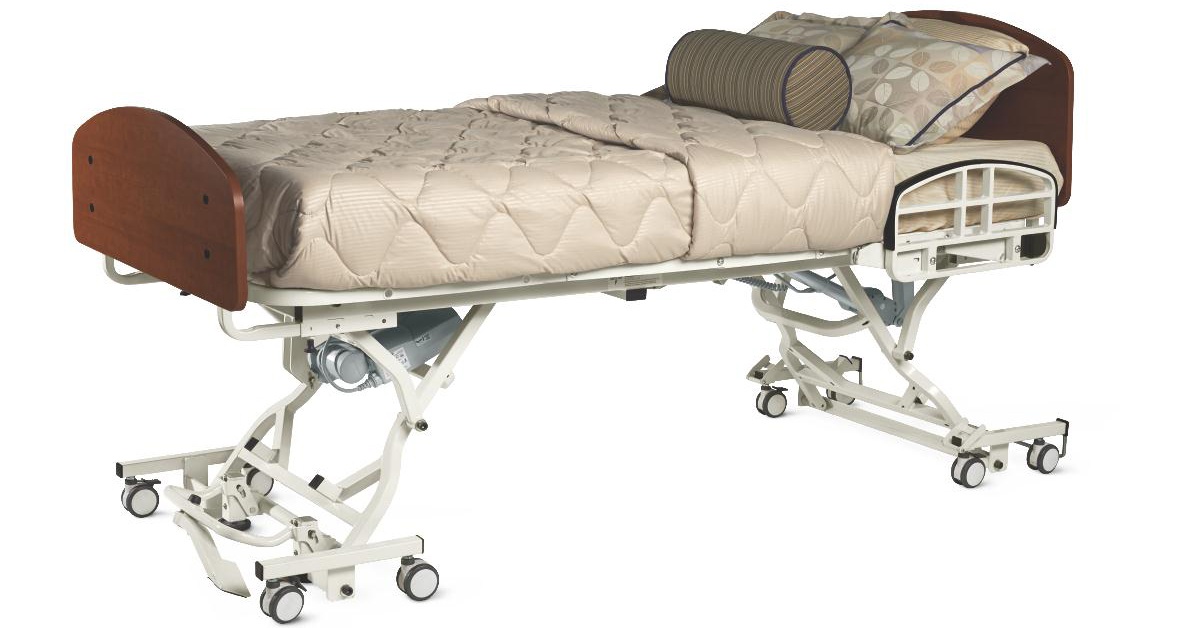 The process of adding a hospital bed to your home can be daunting.
You'll need to rearrange rooms, or perhaps give up pieces of furniture to make space. This is to say nothing of the emotional toll involved: A hospital bed in your home means someone may be in hospice care or is recovering from a serious illness or injury.
Having a hospital bed for someone in that condition offers quite a few benefits. For example:
Someone who spends a lot of time in bed can develop bed sores. But with a hospital bed and its adjustable positions, you can alleviate the pressure that causes bed sores.
Caregivers who need to transfer patients in and out of bed with have an easier time with a hospital bed compared to a regular bed.
By raising a patient's head and feet, you can improve circulation.
With all that in mind, it's important to find the bed that's right for you or your loved one. Whether you need to buy a hospital bed, or are just investigating hospital bed rentals, it's important to conduct some research first and look at a few of the standard features involved.
Do I want electric or manual?
Hospital beds for homes come in two main varieties: manual and electric.
A manual bed is one that requires someone to adjust it using a hand crank. These cranks are usually found at the head of the bed, or at the foot. You'll save money by choosing a manual bed over an electric model, but you'll have fewer options when it comes to positioning.
With an electric hospital bed, a control panel allows you to adjust the head and foot positioning of the bed.
Some models are fully-electric, which means you can raise and lower the height of the bed while also adjusting the head and foot of the bed. With a semi-electric bed, users can raise or lower the head and foot with a control panel but must use a manual control system to adjust the bed's height.
Is my new hospital bed safe?
Aside from the manual vs electric question, your search for a new hospital bed for your home should focus on safety.
One of the most important safety features: a railing system. Rails can help the person in the bed position themselves, while also providing a place to hang an electric bed control panel.
Hospital beds have two types of rails. The first option is half rails, which prevent falls while still giving patients some independence. In some cases, a full-rail system – which stops users from getting in and out of bed – might be necessary.
When it comes to hospital beds for homes, other safety considerations include:
The wheels on a wheeled bed should always remain locked unless the bed needs to be moved.
Keep the rails up if the person is in danger of falling.
Always have a phone within reach of the bed, and make sure the patient can easily access the controller for an electric bed.
Watch for fire hazards. Don't keep lit candles near the bed.
Put a nightlight near the bed to help the patient avoid falls.
Have an expert inspect the bed before anyone uses it. Follow the manufacturer's instructions.
Are you thinking about buying a hospital bed or interested in hospital bed rentals? Marx Medical Equipment can help. We carry a complete line of semi-electric and full-electric hospital beds for sale and rental. Contact us today to learn more about how we can help you or your loved ones recover at home.