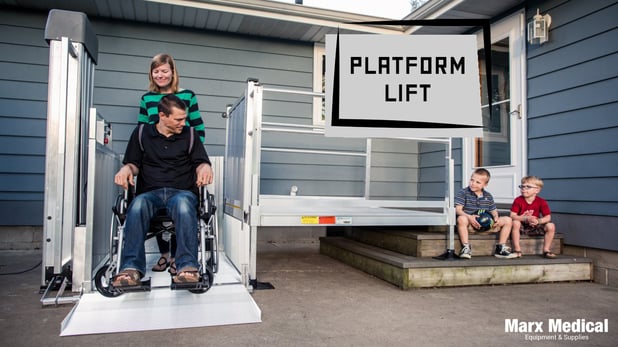 Stairways and elevated floors are major challenges for many individuals, seniors and those recovering from an injury. Today, more than 1/3 of the population above the age of 75, has some form of mobility restriction. For many the stairs has become a handicap. Platform lifts are a good option for them, being designed to raise the consumer and their wheelchair, scooter or power chair to the desired level. These lifts are durable and ensure easy accessibility both indoors and outdoors. They help to overcome barriers such as stairs and give easier access to the home.
Platform Lifts are of two types.
Inclined platform lifts are designed for both straight and curved stairways and travel along a rail system mounted alongside the stairs. These lifts have a folding platform and are ideal for buildings and homes where vertical lifts cannot be easily accommodated. These lifts can also be installed on existing stairways with little structural modification. They can be battery operated to perform even during instances of power failure.
Vertical platform lifts ensure easy, smooth and safe access in a vertical direction. They are designed for low-rise travel indoors or outdoors. These lifts can accommodate a wheelchair along with the consumer. They are provided with an array of safety features like sensors which stop the lift if it senses an obstruction. There are several vertical lift models from established manufacturers like EZ-Access.
All these models can be customized by adding call/send stations, a second operating panel, or joystick. A warranty of 36 months is usually provided. ASME A18.1 Safety Standard is a must for platform lifts.
You should purchase your wheelchair lift from a well-known dealer who can provide you with certified technicians to install and maintain the lift, and efficient post-sales services.